Dermaplaning
Dermaplaning is suitable for a wide range of skin types and can be customized to meet your unique needs. Whether you have sensitive skin, acne-prone skin, or are looking to revitalize your appearance, dermaplaning can be a great addition to your skincare routine. Dr. Mansour will conduct a thorough consultation to ensure the treatment aligns with your goals.

Dermaplaning is a cutting-edge skincare technique that has gained immense popularity for its remarkable benefits. This non-invasive and virtually painless procedure involves the use of a surgical scalpel, wielded by a skilled esthetician, to gently scrape away dead skin cells and fine, vellus hair from the surface of your skin. This manual exfoliation process not only leaves your skin feeling incredibly smooth but also unlocks a range of aesthetic and practical advantages.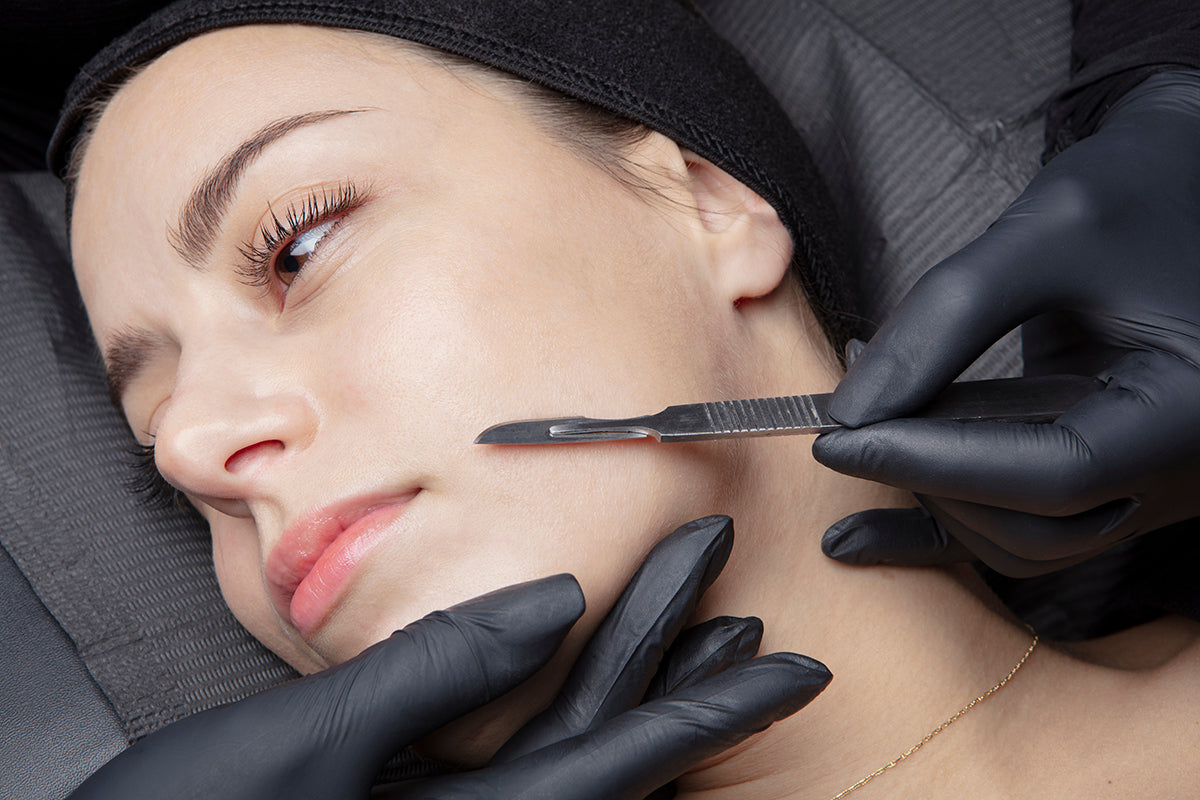 Benefits of dermaplaning
Dermaplaning is a safe and proven exfoliation technique that involves using a specialized scalpel to gently remove dead skin cells and vellus hair (commonly known as "peach fuzz") from the surface of your skin. This painless and precise procedure offers numerous benefits, including:

Smoothing Skin Texture: By removing the outermost layer of dead skin cells, dermaplaning reveals a smoother and more youthful complexion.

Enhancing Product Absorption: After dermaplaning, your skincare products can penetrate more effectively, allowing them to work more efficiently.

Minimizing Fine Lines and Wrinkles: Dermaplaning can help reduce the appearance of fine lines and wrinkles, giving you a rejuvenated look.

Brightening Complexion: Say goodbye to dull and uneven skin tone as dermaplaning unveils a radiant and glowing complexion.

Removing Unwanted Hair: In addition to its exfoliating benefits, dermaplaning effectively eliminates vellus hair, resulting in baby-soft, hair-free skin.
Book an appointment
Frequently asked Questions
What is dermaplaning?

Dermaplaning is a non-invasive skincare treatment that involves using a surgical scalpel to exfoliate the skin and remove vellus hair, or "peach fuzz."
Is dermaplaning safe?

Yes, dermaplaning is a safe procedure when performed by a trained and certified esthetician.
What are the benefits of dermaplaning?

Dermaplaning can provide smoother skin, enhance product absorption, reduce fine lines and wrinkles, brighten the complexion, and remove unwanted facial hair.
Does dermaplaning hurt?

Dermaplaning is generally painless and well-tolerated by most individuals. It feels like a gentle scraping sensation.
How long does a dermaplaning session take?

A typical dermaplaning session usually takes around 30 to 45 minutes.
How often should I get dermaplaning done?

For optimal results, dermaplaning is recommended every 4-6 weeks.
Can I combine dermaplaning with other skincare treatments?

Yes, dermaplaning can be combined with other treatments such as chemical peels or facials to enhance results.
Is there any downtime after a dermaplaning session?

There is no downtime with dermaplaning. You can resume your normal activities immediately after the treatment.
Are there any side effects of dermaplaning?

Minimal side effects may include temporary redness or slight sensitivity, but they typically subside within a day.
Can I wear makeup after dermaplaning?

You can apply makeup immediately after dermaplaning for a flawless finish.
How much does dermaplaning cost?

180$ per session and 80$ when combined with another treatment.
Who is a good candidate for dermaplaning?

Dermaplaning is suitable for most skin types and concerns, but it's best to consult with an esthetician to ensure it's right for you.
Testimonials
⭐️⭐️⭐️⭐️⭐️ I had a great experience with Dr Mansour. My lip fillers and botox are super natural and exactly what I wanted. Also did some micro-needling, and my skin has been so glowy since! Very happy with the service, the staff and the overall experience. Would definitely recommend Dr Mansour and her team for your aesthetic needs!

Dina

⭐️⭐️⭐️⭐️⭐️ Dr Mansour is great! She did scalp PRP on me for hair loss and the treatment worked in an excellent way. She also did "preventive" Botox in my forehead and crossfeet and I was very happy with the results. She is knowledgeable and profesional. I highly recommend her for any treatments.

Juan

⭐️⭐️⭐️⭐️⭐️ Dr Golbarg Mansour and her staff are kind, professional and honest. She has an eye for beauty, and really helps accentuate one's natural features. She listens to your concerns and gives honest advice. I've seen her for multiple treatments (microneedling, fillers, Botox) and would recommend her to everyone for all their aesthetics needs.

Maryam

⭐️⭐️⭐️⭐️⭐️ Amazing service, excellent bedside manner, I was so worried about getting PRP but with the service I received, it was a breeze Highly recommended.

Shady

⭐️⭐️⭐️⭐️⭐️ My experience at Dr. Mansour's clinic went so well! Dr. Mansour is kind, professional, meticulous and really attentive to my needs. I am very satisfied with the service received and especially with the result of my lips.

Diane